'Do not judge, and you will not be judged. Do not condemn, and you will not be condemned. Forgive, and you will be forgiven. Give, and it will be given to you. A good measure, pressed down, shaken together and running over, will be poured into your lap. For with the measure you use, it will be measured to you.'
(Luke 6:36-38, NIV)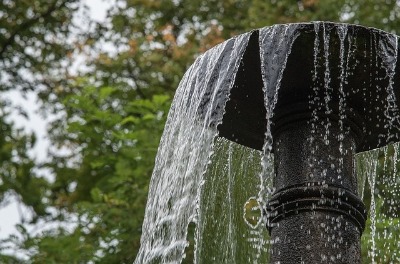 Doctors today amaze me. Your knees stop working? They replace them! Bad hip? No problem, they've got an operation for that.
Personally, I'm waiting until they start brain replacement surgery. Mine's about used up. I told my wife that we were going to have to work together because I've only got half a brain left and she's got a half left also. It seems that one half brain plus another half brain would equal a whole brain. No, it's still just a half.
A halfwit plus a halfwit doesn't equal a wholewit. It equals a nitwit.
Actually we are heading in the direction of artificial brains. Today we have AI–artificial intelligence (or artificial ignorance). Love those shows where you see a room from a robot's point of view. Someone enters and you hear a mechancial sound as the little machine zeros in on the person. "White male. Late 60's. Needs to lose ten pounds. Kind of goofy looking." Then a death ray zings out from the robot and fries the poor guy, followed by a mechanical voice which announces, "Threat terminated."
We're all a bit like that robot.
Threat Terminated
We constantly judge and evaluate others. Our judgements often reveal more about us—our values, our prejudices, our pride, our insecurity—than it does about the person we're judging.
If we have a low opinion of other people, it may reveals one of two things: either we have a low opinion of ourselves and we're trying to bring others down to our perceived level or we are arrogant and feel no one is as competent, smart, and good as we are.
Neither of those attitudes smell good. Continue reading →